Interview with Makarand Bagul, Senior Medical Director at GW Pharmaceuticals (part of Jazz Pharmaceuticals)


Ahead of Brain Innovation Days: United for Brain Innovation, we spoke with Dr Makarand Bagul, a Senior Medical Director at GW Pharmaceuticals (part of Jazz Pharmaceuticals).
Cannabinoid Education 360, an educational initiative for all audiences developed by GW Pharmaceuticals, is the platinum sponsor of United for Brain Innovation and Dr Bagul is giving a Brain Talk on Tuesday 12 October at 10:45 CEST.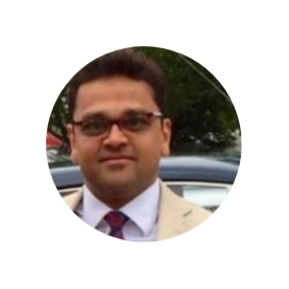 Dr Bagul, welcome to Brain Innovation Days!
Thank you. It's the first time Cannabinoid Education 360 has been part of Brain Innovation Days – and we're excited to be a part of such an interesting and diverse programme.
What does brain innovation mean to Cannabinoid Education 360?
I think Cannabinoid Education 360 shares many values with Brain Innovation Days. First and foremost, we passionately believe in the importance of high-quality scientific research driving our future understanding and management of brain disorders, be they neurological, psychological or otherwise. We also strongly advocate the need to share balanced, scientifically supported information, to encourage dissemination of research, and to provide platforms for a range of audiences to discover new things and engage with this research. We're looking forward to the opportunity to talk about the science of cannabis with a wide audience and to share thoughts on what future research may unveil in this fascinating field.
What activities does Cannabinoid Education 360 have planned at Brain Innovation Days: United for Brain Innovation?
I'll be giving a Brain Talk on Tuesday called Cannabis in medicine: hype or hope? (10:45 CEST). The talk will discuss the current cannabis landscape, including why there is so much hype, as well as a fair bit of misinformation, about cannabis, and look ahead to what the future may hold. Then on Wednesday, we have a Breakout Session called Cannabinoids and the Brain (14:00 CEST) involving Professor Eugen Trinka, a neurologist, and Dr Amir Englund, a psychopharmacologist, who will bring a diversity of perspectives on this subject, along with Chandni Hindocha, Associate Director for Cannabinoid Science at GW Pharmaceuticals, who has an extensive background in cannabis research.
They'll be discussing the science behind how cannabinoids, the components of cannabis of medical interest, influence the brain and the body, as well as cannabisbased products and what evidence sits behind their use.
We're planning on recording both sessions and so if attendees are not able to watch the talks live, they will hopefully be available on the Brain Innovation Days and Cannabinoid Education 360 websites shortly after.
What would be the one thing Cannabinoid Education 360 hopes Brain Innovation Days' attendees take away with them?
Firstly, I hope attendees enjoy the session and learn something new about cannabis and cannabinoids. We are passionate about cannabinoid science and firmly believe that the scientific research and robust clinical trial evidence can unlock the therapeutic potential of various cannabinoids. Cannabis is a topic that is always in the news, and there's so much information online that it can be difficult to decipher it all. Hopefully, by learning more about the science and current landscape in this field, we can provide Brain Innovation Days' attendees with more context to help them
understand, and also scrutinise, that information.
There's a lot of misinformation about cannabis, particularly in relation to some brain disorders, and also a lot of cannabis-based products are becoming available, which can be confusing. Understanding that not all cannabis-based products are equal in terms of their components, their quality and how well they've been researched for their use is a key part to tackling this confusion. We feel it is important that cannabisbased products and medicines are independently assessed for their benefits and any possible risks, and that all cannabis products are subject to rigorous high-quality clinical trials and approval by medicines regulators, in the same way that all other medicines are.
What does the future hold for Cannabinoid Education 360?
It's been a really busy and exciting first year for Cannabinoid Education 360 and we're looking forward to building on what we've started. We've been involved in some major medical congresses, such as the European Academy of Neurology congress and World Congress of Neurology, and have developed numerous resources for healthcare professionals and non-healthcare professionals on our freeto-access educational website. Looking ahead, we will continue to expand the website with new materials, including video content, downloadable resources and interactive tools as we look to educate more and more people on the fascinating science of cannabis.
VV-MED-23915.
Date of preparation: October 2021