Les Ateliers des Tanneurs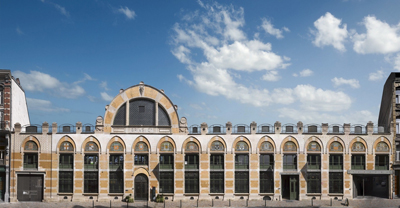 Located in the heart of Brussels between the Sablon, Place du Jeu de Balle and Brussels-Chapel train station, Les Ateliers des Tanneurs offer its spaces in a beautiful Art Nouveau-style complex. Completely renovated, the architectural complex, jewel of Brussels' industrial heritage, has several centres: a business centre, the Tanneurs organic market and a restaurant.
In 1892 Ernest Catteau, the owner of the Brias et Compagnie company, decides to set up his business in the Rue des Tanneurs in the heart of the Marolles, a district in full swing. He bought the buildings of the first modern bakery of the time and set up his business there, supplying the Court with pastries, wines, liqueurs, chocolates, etc.
In 1909, the architect F. Symons designed an Art Nouveau inspired façade, decorated with graffiti evocative of the great European wine centres. The wine trading business flourished and became the Wine Palace, the reference company for wine sales in Belgium.
The premises were unoccupied for a long time and were put up for public sale in 1978. They were used as warehouses for the Palais du Vin until 1996, and were then occupied for a time by a group of artists, before being bought by the CPAS of Brussels.
Are you planning to stay longer in Brussels? Discover the landmarks of the European Capital!
Access by public transport
Train: Brussels-South station – Brussels Central Station
Place du Jeu de Balle: bus 27, 48
Sablon: bus 34, 95 – tram 92, 93
Lemonnier: tram 3, 4, 51, 82
Anneessens: tram 3, 4, 32
Brussels-South station: bus 27, 49, 50, 78 – tram 3, 4, 32, 51, 81, 82 – metro: 2, 6
Porte de Hal: bus 27, 48 – tram 3, 4, 51 – metro: 2, 6
Louise: tram 92, 93, 94, 97 – metro: 2, 6
Brussels Central Station: metro: 1, 5
The Ateliers des Tanneurs is accessible to people with reduced mobility.
Place du Jeu de Balle (free) from 5pm
Parking Poelaert, access by lift to les Marolles
Near to Brussels-Chapel train station
Venue: Les Ateliers des Tanneurs, Rue des Tanneurs 60A, 1000 Bruxelles